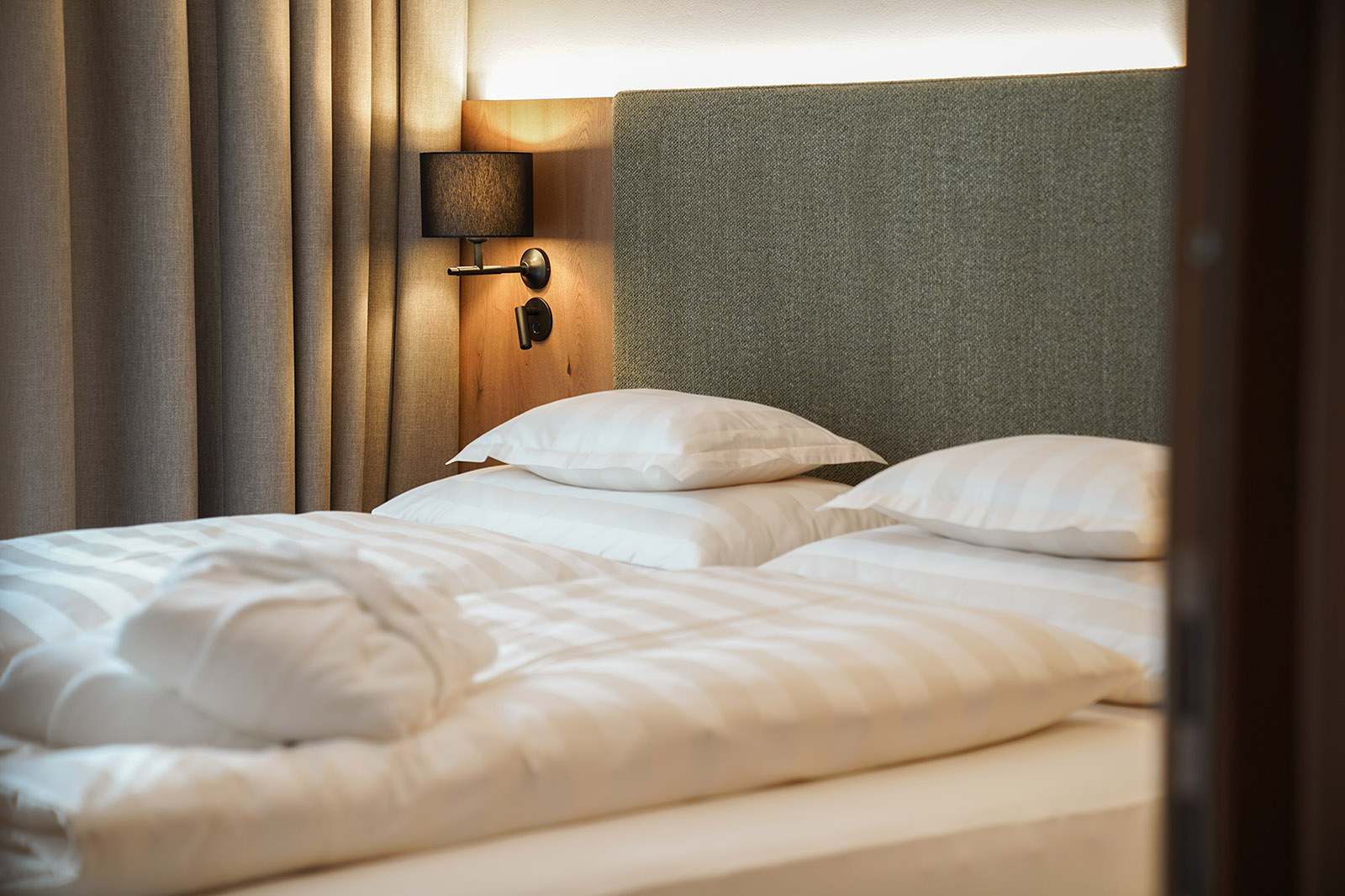 Omaela Story
10 reasons for our Omaela apartments in St. Anton
Why we at Omaela have the perfect vacation apartment in St. Anton for you? Here are a few good reasons for our new house in St. Anton am Arlberg.
#1: New design apartments in St. Anton
Our Omaela "grew out of the hillside" in 2019/20 - we started construction in 2019 and it was completed in December 2020. With this house and the holiday flats, we have fulfilled a dream and put a lot of time and love into the planning and design of the apartments arlberg and the whole house. This attention to detail and the quiet, beautiful design of our holiday flats is highly praised by our guests (for example to read on TripAdvisor or Booking.com).
#2: Private sauna in every holiday flat St. Anton
You don't often find this: every holiday flat in our flat house or aparthotel in St. Anton am Arlberg has its own private sauna in the holiday flat. This is always ready for a sauna session to relax and unwind during your holiday in St. Anton am Arlberg - after a perfect day of skiing in the Arlberg ski area or after a hike, summit victory or e-bike tour in our Tyrolean mountains on the Arlberg. Or simply on relaxing holiday days at any time of the day, even if the weather doesn't quite cooperate (tips for holidays on the Arlberg in less than perfect weather can be found here). The sauna can be heated up to 60 or 90 degrees, and there is a choice of different fragrances for the infusion in the sauna.
#3: Even more private spa in our holiday apartments
But it is not only the private sauna in the holiday flat St. Anton im Omaela that lets you relax, when we designed our holiday flats we attached great importance to plenty of space in the bathroom and especially in our showers. The bathrooms are generously designed with a large shelf, mirror, hairdryer and more, as well as a stool and make-up mirror for putting on and removing make-up. The showers are so large that you can dance to the music in the bathroom and enjoy the rain shower to the full. And the toilets are of course separate with their own door - another important detail for us. High-quality care products and bathrobes are also available for this small, private spa in every holiday flat.
#4: Fresh, daily bread roll service from the baker Ruetz for a great breakfast in the holiday apartment.
This is also very much appreciated by our guests: fresh, crispy bread from the local baker Ruetz can be ordered daily via our bread form. We will then order this for you and at around 7.00 a.m. in the morning we will hang the ordered bread rolls, chocolate croissants, butter croissants or other delicacies for the perfect breakfast in the St Anton holiday flat in a fine jutte sack on your flat door.
#5: Fair-use wine bar or "Vino-Take" with selected products
In our lounge at the Omaela Aparthotel in St. Anton am Arlberg, we also have a small, fine selection of wines and other drinks for dinner or simply as a thirst quencher. We call this area our "Vino-Take": our guests can take wine and other drinks from here at any time and we charge them on departure.
#6: Great location of our holiday flats in the Omaela flat house in St. Anton
These are 3 more great advantages of a holiday in a holiday flat in the Omaela: location, location and location. Our Omaela flat house is very centrally located in St. Anton am Arlberg, in the 2nd row behind the village street and right next to the Nasserein cable car. The "Alte Gasse" (the name of the street on which our Omaela is located) is in a traffic-calmed zone and is only accessible to pedestrians - only residents, our guests and suppliers are allowed to drive in from both sides. This guarantees a lot of peace and quiet. At the same time, the bakery, doctor, restaurants and grocery stores are only a few minutes' walk away, so you don't need your car here. And very important for our ski holidaymakers and guests in winter: the location next to the ski slope and right next to the Nassereinbahn in St. Anton am Arlberg, where you need less than 2 minutes from the holiday flat to the ski lift - and the whole Arlberg ski area is at your feet.
#7: Parking directly at the holiday flat in St. Anton
In the Omaela flat house, our guests have free parking in our garage right next to the holiday flat in a prime location in St. Anton am Arlberg. Getting there is easy and uncomplicated if you know our tips (here).
#8: Summer Card for your summer holiday on the Arlberg in St. Anton
In summer, we offer our guests in St. Anton am Arlberg the free St. Anton Summer Card from their first overnight stay, with numerous benefits and activities for unforgettable, active summer holidays on the Arlberg in Tyrol with mountain climbing, hiking, biking and e-biking as well as archery, swimming, golf and more. Also included in the summer card are public transport or use of the Arlberg mountain railways. Find out more about the St. Anton Summer Card here.
#9: Ski service and best ski rental directly from the Omaela.
A very special service at the Omaela in St. Anton am Arlberg: our guests can rent the perfect skiing equipment for their skiing holiday in St. Anton am Arlberg and the Arlberg skiing area at special prices from our sports shop partner SkiWest. For our guests who then want to go directly to the ski slopes of our world-famous ski area, we will fetch the boots or other items of clothing back to the Omaela on request - so you can go straight back to the Omaela after your skiing fun on the slopes of the Arlberg. At Omaela, every holiday flat has its own lockable ski locker in the ski room - heated and ventilated, so that your ski boots are guaranteed to be dry and slightly warm the next day, ready for the next ski day on the Arlberg.
Those who bring their own skis to the skiing holiday can also order ski service from SkiWest from our Omaela flat house: all you have to do is fill out the SkiWest service form and place it with the skis or snowboard in front of your own ski locker by 6 pm at the latest. The in-house fairy godmother drives to SkiWest with the equipment, they take care of the perfect service (sharpening the edges, freshening up the base, etc., as desired), the fairy godmother collects the freshly prepared hardware again and the next day the skis or snowboard are freshly prepared and ready for the next ski day in the Arlberg ski area in front of the ski locker. That is exclusive service.
#10: We love the Arlberg - and we pass this on to our guests
We grew up in the Arlberg and love our nature, the many possibilities in our mountains, the fresh air, even the sometimes capricious weather and the people. In addition, we know many corners, great tours and also places that not every hiking map or ski map immediately shows. And we like to pass on these tips and this love for our region to our guests, summer and winter. In addition, we always try to keep ourselves informed about upcoming events, opening hours of swimming pools or attractions, etc., or - if desired - to book restaurants or request a taxi. We are always there and happy to help.